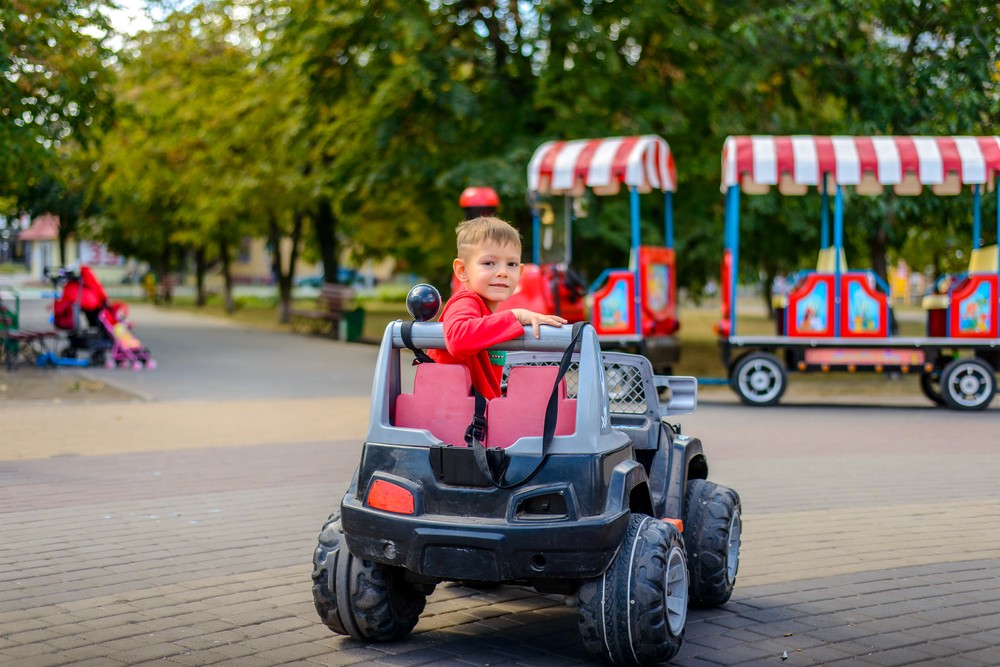 Kids love electric powered ride on toys with the most well know brand being Power Wheels.
Over the years the use of the term Power Wheels has become a generic name used for most any electric ride on toy. So in this review we will be using the term Power Wheels in its broader sense and reviewing various brands of vehicles, allowing us to present you with a list of the very best 12 volt ride on toys currently available from all brands!
We have also included some buying tips and FAQs to help you pick out the best electric ride on car for your boy or girl!
Tips to Help You Find the Right 12V Ride On Toy For Your Child
Determine where your child will be riding this toy. Will they be riding inside or out? What type of terrain will they be riding this 12V Power Wheels on? Being able to answer these questions will help you determine the ride-on toy best suited to meet your child's needs.
Safety is an important thing to consider with these toys so think about your child's cognitive and physical development to determine the best vehicle to match their skills.
Determine whether or not you need or want a car with parental remote control or if you want a ride-on toy that your child must manage on their own. If a ride-on has more than one speed you may want to determine if you want to be able to lock out the higher speed until your child gets used to driving at a slower speed.
Read the reviews to discover exactly what other users like and don't like about the ride-on you are considering.
The Best 12V Power Wheels Ride On Toys List
1. Best Choice Products Ride On Jeep Truck
This Best Choice Producs 12 volt ride on toy is designed to look like a jeep. This jeep-like ride-on comes with an adjustable seat belt, LED headlights, door locks, a grid windshield, and traction plastic tires.
This vehicle also has manual and parental controls, drives in both forward and reverse and has an AUX outlet so your child can music while driving. This vehicle travels at 2.8 mph.
Positives

This vehicle is easy to assemble

The jeep is easy for young children to operate

2 kids can ride together in this vehicle

Negatives

Several users had charging problems with this truck/car
What age is this recommended for?
The manufacturer recommends this toy for children ages 3 and up, but many parents find that with the parental control this vehicle is suitable for 2 year olds.
2. Peg Perego John Deere Tractor
This John Deere tractor is based on the iconic farm tractor that America loves. Your little one will feel like a real farmer when riding around in this green and yellow machine.
This 12 volt Power Wheel ride-on travels at speeds 2 ½ and 4 ½ mph, has an accelerator pedal, automatic brakes, farm tractor wheels, FM radio, adjustable seat with flip up armrests and a stake-side trailer so your child can haul around leaves, toys or just about anything else.
Positives

This tractor has an adjustable seat making it easier for children of different sizes to reach the pedals.

Will travel on various surfaces such as grass, dirt, gravel or pavement

The trailer is a great bonus

Will grow with your child

Negatives

Some users have battery problems
What age is this recommended for?
This tractor is recommended for children ages 2 through 7
3. Power Wheel Dune Racer
The monster traction system allows this Power Wheels dune racer to go on hard surfaces, rough terrain, and even wet grass. It has a metal sidebar for hand support, power lock brakes, a 12 volt battery and plastic tires.
This dune buggy can travel at 2.5 and 5 miles an hour and has a user weight limit of 130 pounds.
Positives

Sturdily built vehicle

Grows with your child

Good battery life

Negatives

Assembly of this vehicle is incredibly difficult
What age is this recommended for?
This dune buggy 12 volt Power Wheels is suitable for children ages 3 to 7
4. Rollplay 12 Volt Nighthawk Electric Ride-On
The Nighthawk electric ride-on is a ride-on toy that sits close to the ground and can travel up to 6mph. It has push start and stop pedals, the wings serve as handles to aid in steering, a safety flag, wheels all around the toy help keep it from tipping over, and a battery life that lasts up to 2 hours. It holds a maximum weight of up to 110 pounds.
Positives

This 12v Power Wheels ride on goes pretty fast for a kids ride-on

This is a toy that will grow with your child

No assembly is required, which parents love

Negatives

Some users experience problems with the chains falling off
What age is this recommended for?
This ride-on toy is best suited to children ages 6 and up
5. Costzon Ride-On Truck
This Costzon ride-on truck comes in 4 different colors. It comes with both a parental as well as manual control. The truck easily goes in forward and reverse, has a MP3 player AUX input, USB port, TF card slot, 4 wear resistance wheels, soft start technology for gradual acceleration, front and rear lights, double door, magnetic lock and safety harness.
Positives

This 12 volt vehicle is easy to assemble

Kids get a long riding time out of a charge

Parents love the parental control

Negatives

Several users experienced problem with the vehicle not going in reverse after a few uses
What age is this recommended for?
This ride-on truck is recommended for children ages 3 through 7
6. Uenjoy Electric Ride-On Jeep Car
This Uenjoy ride-on car is a cool looking jeep that comes in multiple different colors and a parental remote control. This jeep can be set at speeds for low, middle and high speeds with the top speed being 2.5 mph.
This jeep also comes with built in music and stories, adjustable seat belts, lockable doors, headlights, top lights, and an intake grill. This toy can hold user weight of up to 66 pounds and requires 8 to 10 hours charging time.
Positives

This vehicle is easy to assemble using the video provided by the manufacturer

This ride-on toy has lots of cool features

Parents love the parental remote control

Negatives

The speed may be a little slow for slightly older children
What age is this recommended for?
This ride on car is recommended for children ages 2 through 6 years old
7. Tobbi Kids Ride-On Maserati
This kids Maserati sports car is a great looking battery operated vehicle that features working headlights, horn, adjustable rear view mirror, MP3 input, working doors, portable pull rod to carry and a safety belt.
This toy runs about 60 minutes on a full charge and as of publising time it comes in the colors red, white, black and pink!
Positives

This 12 volt car is easy to assemble

Kids can learn to control this car easily

Great looking toy that both parents and children love

Negative

Some parents don't find that this toy runs very long on a charge
What age is this recommended for?
This Maserati is recommended for children ages 3–6
8. Power Wheels Jeep Wrangler
This Jeep Wrangler Ride On Toy is part of the Power Wheels brand line up and looks like a miniature real life jeep. This 12 volt ride-on toy features working doors, jeep grills, rollbar, tough front and back fenders, power lock brakes and a storage area. It also runs both on hard surfaces and grass.
As of publishing time this Jeep comes in multiple designs including basic red, Jurassic World, Disney Princess, Toy Story 4 and Hot Wheels blue.
Positives

Parents like that they have the ability to set the lower speed of 2.5 mph until they feel confident their child can handle this toy

This jeep will easily fit 2 younger children allowing them to share the excitement of the ride

Parents feel that this jeep gives them good value

Negatives

Some of these jeeps arrived to be assembled and had parts missing.
What age is this recommended for?
This toy is recommended for children ages 2 ½ to 7
9. Uenjoy 12V Lamborghini
This Sporty Lamborghini ride-on toy comes in 5 colors and features a parent's remote (3 speed shifting) manual control (2 speed shifting) so kids can drive themselves.
It also features built-in music and story functions, horn, lights, real engine sounds, lockable scissor doors, emergency brake and even a portable handle which makes it easy to move this little car when the battery dies.
Positives

This car comes with lots of features that kids and parents love

The parental remote allows parents to control the car when needed

There are instructional videos that helps people assemble the vehicle properly

Negatives

Several people had difficulty with the battery charging
What age is this recommended for?
This vehicle is recommended for children ages 3 through 6
10. Kid Trax Marvel Spiderman Toddler ATV
If your child loves Spiderman they are going to get a real kick out of this Spiderman Toddler ATV. This ATV goes forward at 2 1/2mph or 5 mph and goes it reverse at the lower speed.
There are rubber traction strip tires on the back tires that allow the ATV to travel on various terrains and it has foot pedal acceleration.
Positives

Kids love the Spiderman theme

This ATV will run on different terrains

This ride-on toy is easy to assemble

Negatives

Some of these toys came with necessary parts missing
What age is this recommended for?
This ATV is recommended for children ages 1 ½ to 5 years
Frequently Asked Questions
Q. Do 12 volt battery operated ride-on toys come with the charger included?
A. Most if not all battery powered ride-ons come with a charger for the battery
Q. Are the Recommended Ages for ride-on Sage & Accurate?
A. The recommended age is only a guideline since children of the same ages can be different sizes and be at very different stages in their development so its your job as a parent to use your best judgement. We always recommend being very conservative in your judgement! A toy that you think may be too slow is better than one that it too fast as results in a crash and injury for your child.
Q. It seems like most 12 volt power wheels ride-on toys have battery problems, why does this occur so often and what can I do about it?
A. Many ride-on vehicles sit for long periods of time in a warehouse. The batteries in these ride-ons lose power front sitting without a charge. In addition, many people leave these rides on toys sitting out in damp weather which can affect the wiring leading to the batteries. Your best bet is to make sure that you purchase othe battery can easily be replaced on any ride-on toy.
Wrapping Up the Best 12V Power Wheels Ride On Toys
If you are looking for a ride-on toy for your child any of these highly rated 12V ride on toys would be an excellent choice. We hope this review helps save you time and effort when you are choosing a ride-on toy for the child in your life.