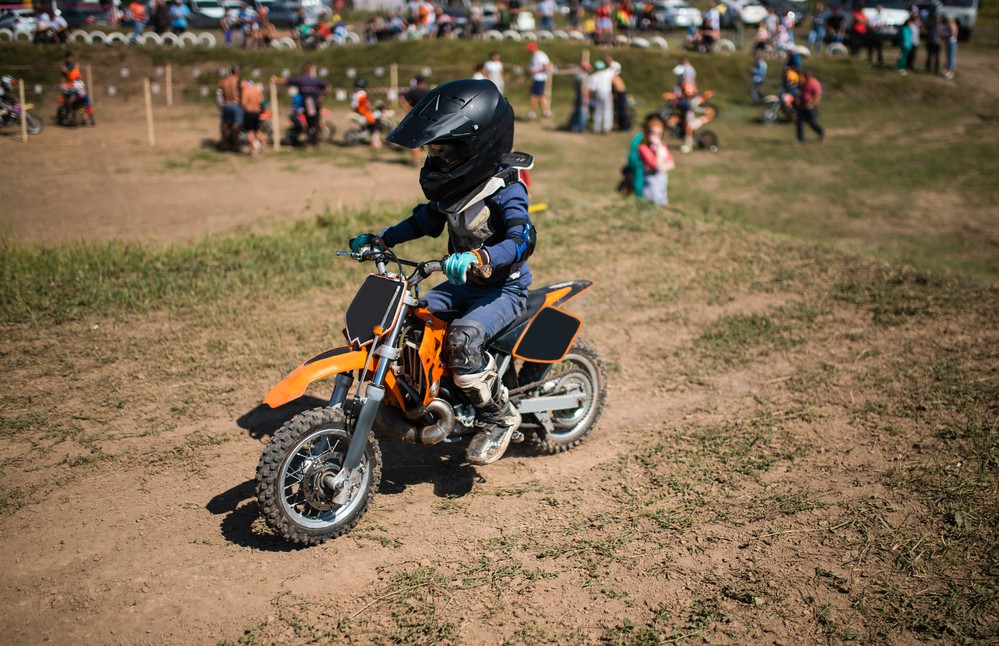 Young children love the feeling of independence that motor vehicles of all types gives them, especially! Youth dirt bikes allow children to enjoy the freedom of riding a motor vehicle in their back yard or other places where they are less likely to meet other vehicles that could pose a danger.
Below we have put together some buying tips and our top picks for the best youth dirt bikes for kids. Near the top you can see the top dirt bikes for toddlers and little kids. While further down we have included the best dirt bikes for older kids. So whether you're buying for a toddler or older kid and whether you want something electric or gas powered we have included options to suit your needs!
Tips for Choosing the Best Dirt Bike for Your Child
Choose a dirt bike that is an appropriate size for the age and size of your child.
Look for a dirt bike that is within the range of your child's skill level. There are specific ones suited for toddlers and others for slightly older kids.
Decided what you as a parent consider to be a safe speed for your child to travel at and get a bike within these limits.
Read the reviews to make sure that the dirt bike will meet your child's specific wants and needs.
The Best Dirt Bikes for Toddlers List
1. Jaxperty 6V Electric Dirt Bike
The Jaxperty 6-Volt electric dirt bike is designed for younger children who have just passed their toddler years. Features of this trail bike includes training wheels, working headlights, start switch, non-slip handlebars, wear resistant large knobby tires, a police siren, starting horn, and built-in music. This bike measures 41 inches x 20 inches x 28 inches and has a run time of 1 to 2 hours while taking 8 to 12 hours charge.
This runs at speeds up to 3.7 mph and bears users weighing up to 40 pounds.
Positives

Easy to assemble

Easy to ride

Designed specifically for older toddlers and young school age children

Negatives

None that we found
What age is this recommended for?
This trail bike is best suited for children ages 3 to 6
2. Best Choice Products Toddler 6V Dirt Bike
Considered a toddler dirt bike this Best Choice Products Kids 6 volt bike is great for younger children who are in their late toddler years and older. It is made from sturdy ABS plastic and runs at about 2 mph. This bike features colorful decals, working headlights, realistic sounds, horn, blinker, music, and training wheels. You have to hold the start button in order for this machine to move.
This cute little dirt bike runs for about 40 minutes on a single charge and should be charged overnight. It measures 41 inches x 20 inches x28 inches. Some assembly is required.
Positives

Easy for young toddlers to operate

Kids love the lights, siren and the radio

Slower speed is perfect for younger children

Negatives

Battery life for this bike is not very good
What age is this recommended for?
This dirt bike is recommended for ages 2 through 6.
3. Qaba 6 volt Electric Powered Motorcycle
The Qaba 6-volt mini motorcycle is an electric powered dirt bike that is perfect for toddlers and younger school aged children. There is a press button on the handlebars that allows this little machine to run while the button is being pushed and when it is released the bike stops. It also has rear wheel drive, training wheels that can be removed once a child no longer needs them, working headlights and a built in speaker.
This bike measures 40.2"X20.9"X26" and has a maximum speed of 1.25mph and a 55 pound weight capacity. It will run about 45 minutes on a 8 to 12 hour charge and comes with its own charger.
Positives

This little machine does a decent job when being ridden in the yard

This is a well made little machine

This bike is easy to assemble

Negatives

Does not go very fast
What age is this recommended for?
This ride-on is best suited for children 3 years and up
The Best Youth & Mini Dirt Bikes for Kids List
1. Razor MX350 Dirt Bike
The Razor MX350 is an electric motocross off-road bike with 12-inch pneumatic knobby tires that makes this bike great for all types of terrain. This bike features a twist grip throttle and a hand operated rear brake. The bike also uses a 24 volt lead-acid battery and will run up to 30 minutes on a single charge while it takes 12 hours to fully charge.
It measures 44 inches x 24.5 inches x 31 inches and can bear a riders weight of up to 140 pounds. Again, we recommend that when riding this dirt bike your child has proper protective gear and a helmet.
Positives

Great for beginners who already know how to ride a bike without training wheels

Easy to assemble

Good battery life

Negatives

Stopped working after a few uses for some buyers so they had to return it
What age is this recommended for?
This is recommended by the manufacturer for children ages 13 and up, but parents find this dirt bike is suitable for 10 to 12 year olds.
2. SYX Moto Kids Dirt Bike
The SYX Moto Kids dirt bike is a gas powered dirt bike with a 2 stroke engine, rear suspension, and front and back disc brake and goes a maximum speed of 30 mph. This bike comes with a speed limiter that allows parents to limit the bike's top speed to 15mph.
The bike measures 50 inches x 22 inches x 33.5 inches with a seat height of 23 inches. It is advised that when purchasing this bike that you also purchase protective gear and a high quality helmet. We strongly urge you to ALWAYS make your child wear it when riding.
Positives

Helps children with balance and coordination

Great size for young children

This is a great starter bike for young children

Negatives

Some users feel that this bike is cheaply built
What age is this recommended for?
This gas powered dirt bike is designed for children 8 years and up
3. Coleman Powersports CT200UB
This Coleman Powersports trail bike is gasoline powered with a 4 stroke OHV engine. This dirt bike features a solid metal frame, pull start, drum brake and low pressure tires. This little machine measures 49 inches x 30 inches x 21.5 inches and travels at 20mph. As your child gets older you can make it faster if you remove the built-in governor.
Positives

Can handle trails of all types

Well built

Easy to assemble

Negatives

Assembly required before riding

Several users had problems with this dirt bike's chain falling off
What age is this recommended for?
This youth dirt bike is best suited for children ages 12 years and up.
4. Razor MX650 Dirt Bike
The Razor MX650 is a compact electric motocross bike that features a 650-watt electric motor, authentic frame geometry, dual suspension, riser handlebars. The bike comes with up to 40 minutes of battery life and tires size of 16-inches for the front tire and 14-inches for the rear tire. It also has front and rear disc brakes and twist grip acceleration.
The MX650 will take about 12 hours to charge after each use. This battery does need to be charged at least once a month even when not being used.
Positives

Good on a variety of different terrains

Well built little dirt bike

Runs quietly

Negatives

Battery needs to be charged at least once a month when not in use
What age is this recommended for?
The manufacturer recommends this for kids aged 16 and up, but many parents state it is well suited for 12 and 13 year olds.
5. Fit Right Off Road Trail Bike
This gas powered off-road Fit Right bike features a 4 stroke engine, chain driven transmission, twist grip throttle, metal tube frame, rugged crutch, rear disc brake, and produces low noise. It measures 40.55 inches x 22.44 inches x 21.65 inches and is for riders who weigh up to 160 pounds.
This bike does require assembly and gets about 27 miles on a tank of gas. It travels at speeds up to 18 mph.
Positives

Good size for young children

Has simple controls

Simple for kids to learn to use

Negatives

Chain comes off this trail bike easily
What age is this recommended for?
This bike is recommended for children ages 8 years and up
6. Razor SX350
The SX350 24-volt electric mini dirt bike is made from aluminum and plastic and features MX frame geometry and McGarth graphics. This bike measures 43.7 inches x 28 inches x 21.7 inches with riser style handlebars, spoked wheels, 12-inch pneumatic tires, a retractable kickstand and hand operated rear brakes. The SX350 has a top speed of 14 mph and can hold user weights up to 140 pounds.
Positives

Very quietne

Faster than other bikes listed here

Easy to handle

Negatives

Some say it too small for the manufacturer recommended age
What age is this recommended for?
The manufacturer of recommends this machine for children ages 13 and up, but most parents state it is too small and is best suited to children ages 7 or 8 and slightly older.
7. Razor Dirt Rocket SX500
The Razor Dirt Rocket SX500 is a faster more powerful version of the SX350 discussed above. It is a 36-volt electric motocross style bike and is made of heavy duty aluminum and plastic. This bike measures 56 inches x 36 inches x 24.5 inches and features real McGarth graphics, a realistic dirt bike frame, a high torque variable speed motor that has a top speed of 15mph. This machine comes with dual suspension, riser handlebars, large knobby tires, a kickstand, and hand operated disc brakes for better safety.
This bike runs for 40 minutes per charge and can handle riders who weigh up to 175 pounds. As with all bikes listed here we advise that safety gear and a helmet be worn when riding the SX500.
Positives

The SX500 is a sturdy little machine

It is a dirt bike that is easy to handle

The speed of this machine is quite fast for a battery operated machine

Negatives

The battery on the SX500 doesn't seem to last very long
What age is this recommended for?
The manufacturer recommends this bike for teens age 14 and up, but this dirt bike is more suitable for kids 8 to 10 years old.
Conclusion to the Best Dirt Bikes for Kids
If you are looking for a mini dirt bike for your child whether they are toddler aged or a little bit older one of these option just might be the vehicle you are looking for.